Arbete
⋅

TCP Sniffer

TCP Sniffer will attempt to log TCP packets on default network interface. Its main purpose is to help detecting problems in Local Area Networks. To use this program you need to install

WinPcap

drivers.

The program will make a directory called

LOGS

where it will save all logs in subdirectories named by save date. In some networks the program can save logs with traffic sent to or received by any IP of any user.

Note, some ISPs with bad settings will allow you to become the gateway of any user or subnet in some areas. Use it at your own risk. If you don't understand the use of this program, do not download it.

This program was tested in Windows 98, Windows 2000 and Windows XP operating systems. The author is not responsible for any illegal use or damages caused by this program.
Screenshots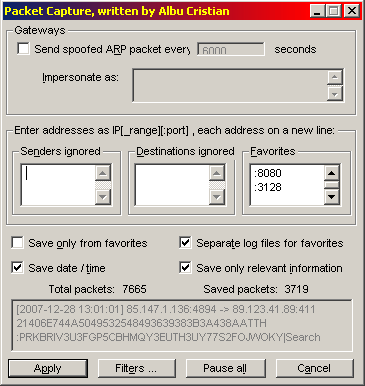 Upphovsrätt
© 2005-2023 Albu Cristian
License
Open Software License
Filer
File
Version
Date
Downloads
Kommentarer
Get
TCP Sniffer 1.0
1.0
2013-09-27 13:32
704
0
Total
704
0
1
There are no comments for this category, you can
leave one here
.